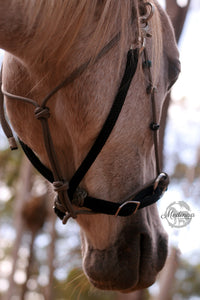 Our comfort straps can be bought as an add-on for our 3in1 Bitless Bridles, turning them into Comfort 3in1 bridles. 
Get the Comfort Straps for your 3in1 Bitless Bridle to achieve the following:
1. Stability: a fixed noseband, allowing for precise cues
2. Freedom: allowing the horse to open its mouth comfortably
3. Comfort: No tightening on the face when reins are picked up

Thanks to the added comfort straps, the noseband is fixed in place, which means your cues are now accurately communicated to your horse. The criss cross design means the chin is free, allowing the horse to open its mouth wider than on any other bitless bridle. The need for a chin strap completely disappears.
And all this is possible without any ropes tightening on the horse's face. The mechanics are that of a simple side pull, matched with stability and freedom.
Perfect for:
1. Young horses
2. Retraining
3. Sensitive horses
4. Endurance
Please note we will always match the comfort straps to the rest of your order. If you are buying comfort straps on their own, please contact us to let us know what colour you would like. If we don't hear from you, you will receive black comfort straps with silver hardware.
Qualities:
UV resistant
Colour fast
Hand washable
Low abrasion
Soft and durable
For custom orders or questions, please contact us!
Customer Reviews
I recommend this product
Awsome
Comfortable ,easy to apply and secure, better for training no movement.
11/24/2021
Anonymous

Australia
I recommend this product
Beautiful
I am surprised each time I order something from Judy, the products are not just beautiful, they are precise, perfect to use and looks very comfortable on horse. I can only recommend this product!