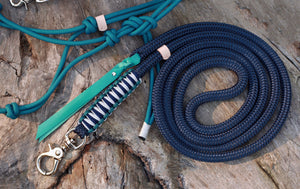 1x Lead rope
Colours:
Navy Rope 
Navy, teal, silver weave
Turquoise leather popper with silver rivet
Silver clip
Choose your length:
8ft: perfect for leading and tying up
12ft: perfect for training and young/green horses
16ft: perfect for lunging 
Our lead ropes are made from 12mm double braided polyester and are manufactured in QLD Australia.
Qualities:
UV resistant
Colour fast
Hand washable
Low abrasion
Soft and durable
Please note: check turnaround at the top of the page before ordering to avoid disappointment.
For custom orders please contact us!