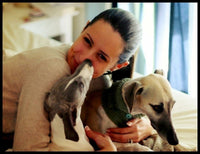 About Us
Medinaa is an exclusive small Australian business taking hand-crafted horse tack to the next level in design and functionality.I started Medinaa in 2017, to shake up the rope bitless bridle market in Australia, which, back then, seemed uninspired and lacking variety.
Read More
Testimonials
"I cannot rate Medinaa highly enough! Judy was very friendly and the quality and craftsmanship is amazing! Well worth the price. Will be back for more."

Lisa; Queensland
"Brilliant customer service and gorgeous products! I wouldn't go anywhere else."

Chloe; Queensland
This neck rope is sturdy and good quality while still remaining soft in your hands. It is also adjustable with a ring you can slide up and down the rope which helps to keep it secure. Overall a great and pretty item.

Aimee B.; Cordeo - Mermaid
Beautiful! This was a Christmas present to myself. I wanted to create something special. Having Judy add my horse's name to the leather feathers just topped it off <3 They are a great length and super soft to hold in your hands. 

Demi; 7ft Split Reins with connectors and leather feathers; Champagne/Turquoise
Just received my ebony split reins, and I can't recommend them enough! Not only are they absolutely gorgeous, the quality of them is next to none, and they are so comfortable to ride with. I'll absolutely buy more products from Judy, she was very helpful and answered any questions I had. Highly recommend!

Emilee - Ebony Split Reins
Loved the quality of the product. I love supporting hand crafted, Aussie makers, and am really happy with the bridle.

Melanie
It is such amazing quality of work! I absolutely love it!

Tayla - Boho Chic Jewellery Halter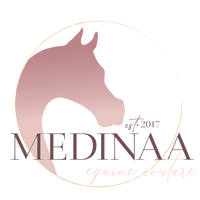 At Medinaa we like to add a bit of sparkle and wonder to your day.
We celebrate the mundane:
The early training hours in the paddock.
The quiet trail rides without a care in the world.
The weekend grooming sessions.
The little walks with your young horse.
The moments that have no expectations, only love.
The every day is full of magic.
Shop Equine
We did not forget about our loyal canines when it comes to fashion.
Choose from a variety of collar styles and leashes, all lovingly designed to make your dog stand out from the crowd.
Shop Hound